The Quality of Life in Red Wing is Remarkable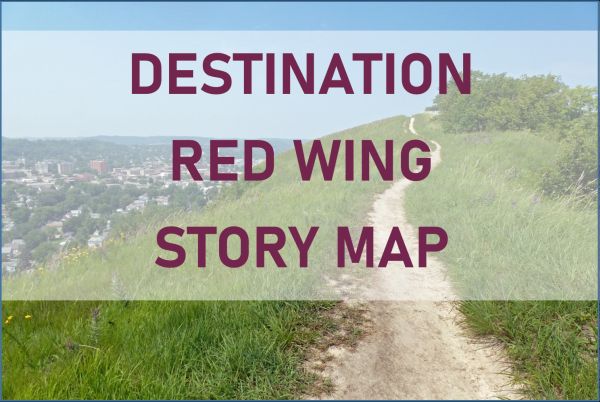 Why do people choose to live in Red Wing? The charming river town has been called one of the best small towns in the country. The mighty Mississippi and surrounding river bluffs make it a distinctively beautiful setting.
Red Wing supports a vibrant arts community. It's home to several arts organizations as well as galleries, museums and venues that host wonderful cultural experiences and opportunities to enjoy first-rate visual arts, music and theatre.
The historic downtown is one of the Red Wing's greatest assets. The lively atmosphere, unique shops and delicious dining experiences rival that of a larger city.
Outdoor enthusiasts appreciate the city's extensive trail system and 890 acres of parks, with opportunities for biking, rock climbing, hiking, boating, golf and so much more!
Arts & Culture
Red Wing has a thriving arts scene, from touring shows at the historic Sheldon Performing Arts Theatre to the renowned artist retreats and public programming made possible by the Anderson Center.
Organizations such as the Red Wing Arts Association and ArtReach ensure the city has a wealth of arts events and opportunities for all ages.
The Pottery Museum of Red Wing and the Red Wing Shoe Company Museum and Store provide a fascinating historical context for visitors and locals alike. There you can learn about the industries that put Red Wing on the map more than a century ago.
Red Wing's downtown district boasts buildings that date back to the mid-1800s. The architectural preservation efforts have paid off, attracting new businesses and revitalizing the city center.
Find out more about Red Wings' arts organizations and museums.
Outdoor Activities
Red Wing and the surrounding area are a mecca for outdoor recreation. The extensive parks and trails system offers something for everyone, from leisure activities like golf or boating to more extreme sports like mountain biking and rock climbing.
Hiking
Climb to the top of Barn Bluff to get a sweeping view of the Mississippi on one side and the city on the other. Adrenaline junkies can find established rock climbing routes in the park.
Memorial Park offers hiking with similarly stunning views. The park has activities for all seasons, including picnicking, Frisbee golf, mountain biking and cross-country skiing.
Biking
The Cannon Valley River Trail is a national recreation trail that runs for nearly 20 miles between Cannon Falls and Red Wing. The ride features a changing landscape with lovely panoramas of the valley and wetlands. In addition to bicycling, users can in-line skate, skateboard, hike, walk or cross-country ski on the paved, multiuse trail.
Mountain bikers will find a network of trails for all abilities in Memorial Park, with special loops for intermediate and advanced thrill-seekers.
Water Recreation
There are wonderful opportunities for water recreation in Red Wing. Enjoy self-propelled kayak and canoe adventures or Lake Pepin sailing excursions. Relax and kick back on an old-fashioned riverboat cruise of the Mississippi.
Families will adore the Red Wing Water Park adjacent to the Mississippi River in Colvill Park. The outdoor facility has a pool with two large water slides, a diving board and play area for young children.
More Ways to Experience Red Wing
Visit the Red Wing Visitors and Convention Bureau to learn more about the vast range of area attractions and activities.